Every Child Is
Precious And Unique!
''Our task, regarding creativity, is to help children climb their own mountains, as high as possible. No one can do more.''
-Loris Malaguzzi
Kozy Kids was founded in the Bethany community in 2001, by Diana Niermann and began as an in-home childcare. She wanted to create a home away from home making it cozy, safe, and educational while valuing each child's learning and loving them unconditionally. As an early childhood advocate, for quality early learning Diana decided to become accredited in 2012 with National Association for Family Child Care. As the childcare grew and recognizing a need for infant and toddler care in the community, Diana expanded by opening a second in-home location. In 2015 Diana broadened her vision when she decided to move into a small center in Bethany Village. When Kozy Kids quickly outgrew the small center, Diana seized the unique opportunity to design her own center in a buildout located across the street. After construction was completed Kozy Kids officially moved to its current location in 2016.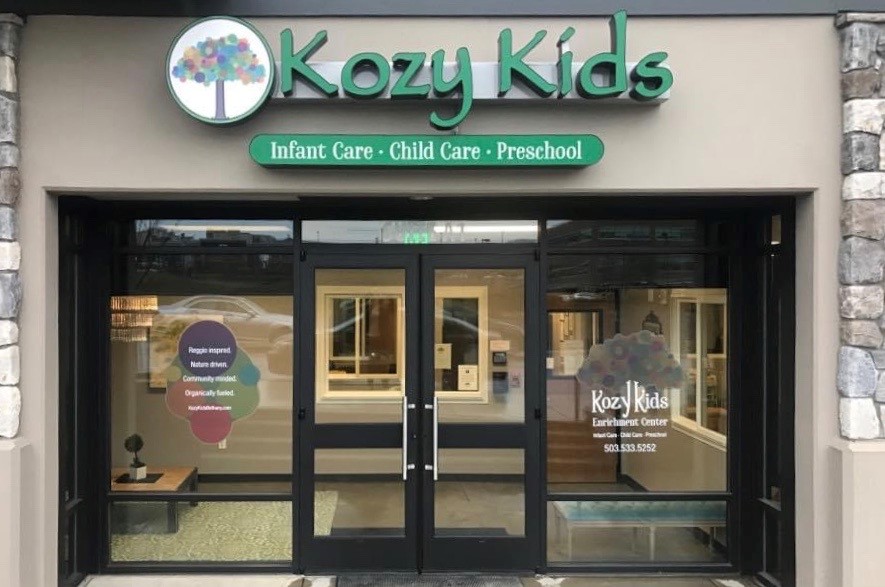 As time went by Diana recognized our industry is unvalued, underpaid and unsupported as a whole. As a small child care business, she vowed to making a change in offering competitive pay, quality benefits, trainings, a beautiful clean environment, and equip them with supplies that make them proud, strong and efficient teachers. We understand the value of what it is our teachers bring to our future; strong, confident, creative and kind children. Our qualified teachers have a passion, experience and education in child development. We have always taken pride in supporting our staff who show initiative in acquiring a higher level of education, such as helping the teachers obtain a child development associates, receiving college/community based trainings and guiding those passionate enough to help make a change in our industry. New staff members are trained by our experienced Teachers in our unique style of curriculum. We are educators not yard duty teachers, we engage and guide.
"We find these joys to be self evident: That all children are created whole, endowed with innate intelligence, with dignity and wonder, worthy of respect. The embodiment of life, liberty and happiness, children are original blessings, here to learn their own song. Every girl and boy is entitled to love, to dream and belong to a loving "village." And to pursue a life of purpose.
We affirm our duty to nourish and nurture the young, to honour their caring ideals as the heart of being human. To recognize the early years as the foundation of life, and to cherish the contribution of young children to human evolution. We commit ourselves to peaceful ways and vow to keep from harm or neglect these, our most vulnerable citizens. As guardians of their prosperity we honour the bountiful Earth whose diversity sustains us. Thus we pledge our love for generations to come. "
― Raffi Cavoukian
At Kozy Kids, we make it a point to be mindful in all we do and teach. Our values include, respecting each child as an individual, appreciating each child for their own uniqueness and what they will bring to our future. We foster clear communication, kindness, empathy, individual creativity, help build self-confidence, and foster independence. Kozy Kids values the earth therefore, we teach the children sustainability practices and healthy nutrition. We avoid using biased opinions from our own conditions, this way they can research their own. Kozy Kids understands the importance of community and we participate in anyway we can to help make a difference.
"We are caught in an inescapable network of mutuality, tied in a single garment of destiny. Whatever affects one directly, affects all indirectly." -Martin Luther King Jr.