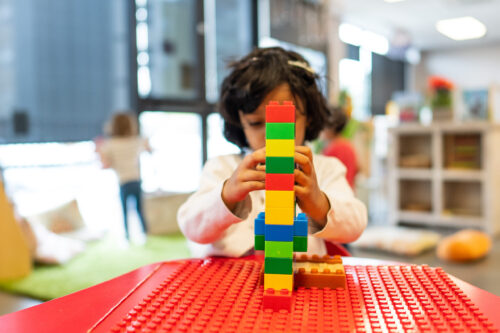 The Hundred Languages of Children
The Reggio Emilia Approach, recognizes that children use many different ways to show their understanding and express their thoughts and creativity. A hundred different ways of thinking, of discovering, of learning. Through drawing and sculpting, through dance and movement, through painting and pretend play, through modeling and music, and that each one of these Hundred Languages must be valued and nurtured. These languages, or ways of learning, are all a part of the child. Learning and play are not separated. The Reggio Emilia Approach emphasizes hands-on discovery learning that allows the child to use all their senses and all their languages to learn.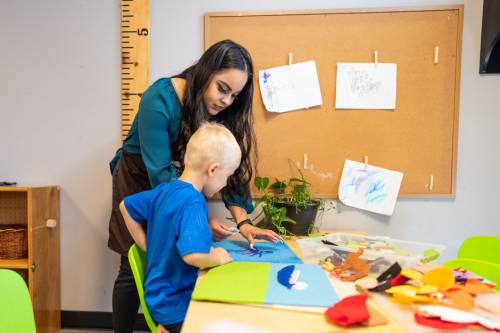 These Are the 7 Learning Domains We Incorporate While Planning Our Emergent Curriculum, Here at Kozy Kids:
Developing large muscle coordination allows for rocking back and forth as an infant, pulling themselves up, crawling, walking, running, hopping on one foot, hopping with two feet, jumping, throwing and catching a ball, balancing, and climbing are all examples of this.
Learning hand-eye coordination is the focus here. Kids learn how to control precise muscle movement in their hands to build fine motor skills. Coloring, cutting with scissors, tearing paper, using lace boards, scooping, pouring, using tongs, these are just a few activities in which reinforce this development.
This domain centers on the child's ability to speak, read, and write, involving alphabetic and phonetic learning. Reading and talking regularly with your kids as infants is extremely important. The conversations we have around the table at breakfast, lunch and snacks enhances their ability to communicate their opinions, wants, and needs with others. When we see a child becoming frustrated, we identify their feelings with them and give them choices with words and ways we can regulate our emotions.
Cognitive development is our ability to think, make decisions, problem solve, and make sense of the world we live in. We use inquiry based learning using scenarios, asking for possible solutions and researching together.
We are all social beings and our child learn to recognize certain emotions within themselves. Children learn these skills with taking turns, interacting with their classmates, following routines, controlling their emotions, and this helps with developing a positive self-image.
Children begin to show independence and learn how to use the tools they have learned through observation and practice in their own lives. They learn to dress and eat on their own, how to tie their own shoes, practice using the toilet, and brushing their own teeth are all examples of becoming less dependent on Mom and Dad. We encourage the child to give it a try things on their own, wait patiently and when asked for our help we are by their side to assist.
Teaching kids to love and respect themselves is a behavior that is learned from and modeled by Mom and Dad, as parents are their first teachers. Children learn by observation as well as exploration, and they are always watching. Knowing the difference between right and wrong is an important lesson to be learned early on. Respecting oneself includes respecting others and all that is in the world around us. The binary right and wrong expands into ever varying shades as children grow and experience the values of different families and people they encounter. A clear message from home gives them something to return to, as well as to push against as they grow and develop their own internal compass.
We use a positive guidance method. There are no time-outs here; which cause self-humiliation, insecurity and low self-esteem. Here again, we learn to communicate our issues to solve problems, identify our emotions and learn how express them in a healthy loving way. This develops life skills for the real world. We encourage and guide the children to solve problems on their own and our teachers are right here to help by giving them choices on how the can solve the confrontation or to get their point across by using vocabulary, problem solving,
empathy and collaboration.